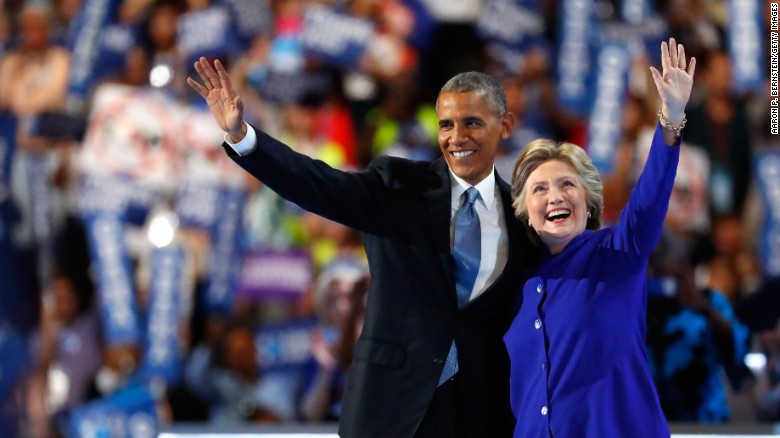 President Barack Obama made a fervent plea for Hillary Clinton on Wednesday, casting the Democratic nominee as a custodian of his legacy while rejecting Republicans' message as fostering anger and hate.
In remarks that demonstrated Obama's lasting appeal to wide swaths of the Democratic Party, the President sought to describe country headed firmly in the right direction, despite the loud protestations otherwise by Donald Trump.
"I can say with confidence there has never been a man or a woman — not me, not Bill, nobody — more qualified than Hillary Clinton to serve as president of the United States of America,"
"America is already great," countering Trump's slogan, "Make America Great Again." "America is already strong. And I promise you, our strength, our greatness, does not depend on Donald Trump."
"Hillary's got her share of critics," Obama said. "She's been caricatured by the right and by some folks on the left; accused of everything you can imagine — and some things you can't. But she knows that's what happens when you're under a microscope for 40 years. She knows she's made mistakes, just like I have; just like we all do. That's what happens when we try."
Detailing Clinton's record, Obama said the former top diplomat had the best view of what it takes to occupy the Oval Office.
"Nothing truly prepares you for the demands of the Oval Office," Obama said. "You can read about it. You can study it. Until you've sat at that desk, you don't know what it's like to manage a global crisis, or send young people to war. But Hillary's been in the room; she's been part of those decisions."
"Donald Trump calls it 'a divided crime scene' that only he can fix," Obama said of the Republican nominee's descriptions of the state of the country. "He's just offering slogans, and he's offering fear. He's betting that if he scares enough people, he might score just enough votes to win this election."
"That is another bet that Donald Trump will lose," Obama continued. "Because he's selling the American people short. We are not a fragile or frightful people. Our power doesn't come from some self-declared savior promising that he alone can restore order. We don't look to be ruled."
"What we heard was a deeply pessimistic vision of a country where we turn against each other, and turn away from the rest of the world," Obama said. "There were no serious solutions to pressing problems — just the fanning of resentment, and blame, and anger, and hate."